Trustees
The Trustees set the vision, ethos and strategic direction of the trust. They hold executive leaders to account and oversee the financial performance of the trust.
The board of trustees manages the business of the academy trust and may exercise all the powers of the trust in compliance with its charitable objects, company and charity law.
Christopher Watt - Chair of Trustees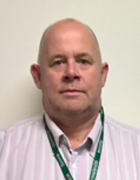 Christopher Watt was a founding Member of Tove Learning Trust and is Chair of Trustees. Chris has extensive experience of being a governor for over 20 years at Sponne, with 11 years being Chair of Governors. He has seen the school through foundation, trust and then academy status. Chris was previously Chair of Governors for 5 years at a primary school. Chris is an active trustee representative on many of the local governing bodies and leads the Chairs of Governors group across the MAT.
Business Experience
15 years as director and shareholder of a privately owned corporate finance company. Role included business recovery and restructuring, HR, debt recovery and premises management.
5 years as a business recovery specialist.
Dr Jamie Clarke - Trustee, CEO and Accounting Officer
Duncan Nicholson - Co-opted Trustee
Frances Craven - Co-opted Trustee
Gary Foote - Co-opted Trustee